A digital twin is a virtual representation that serves as the real-time digital counterpart of a physical object or process. The implementation of a digital twin is an encapsulated software object or model that mirrors a unique physical object, process, organization, person or other abstraction. The term really took off after Gartner named digital twins as one of its top 10 strategic technology trends for 2017 saying that within three to five years, "billions of things will be represented by digital twins, a dynamic software model of a physical thing or system". The twin is constructed so that it can receive input from sensors gathering data from a real-world counterpart. This allows the twin to simulate the physical object in real time, in the process offering insights into performance and potential problems.
The seminar will introduce the principle and logic behind the digital twin model and, by using some industrial applications, will highlight its potential in supporting integrated and systemic decisions in product, process and production planning and control in the manufacturing context.
The Lecturer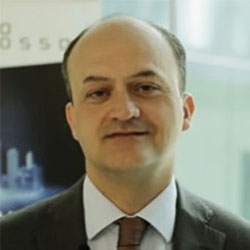 Sergio Cavalieri is Vice-chancellor for Technology Transfer, Innovation and Valorisation of Research at University of Bergamo, member of the Board of Directors of U4I – University for Innovation, past Director of SdM – School of Management. Regarding his research interests, he is responsible of CELS – Research Group on Industrial Systems Engineering, Logistics and Service Operations – at the Department of Management, Information and Production Engineering. CELS carries out studies, research and technology transfer projects in the fields of Supply Chain Management, Service Chain Management and Industrial Asset Management.